When it comes to bathroom towels they are the forgotten stepbrother who people rarely mention when it comes to bathroom decor. Sure, there are all types of fancy towels that we were never allowed to touch when we were kids but those things never took the limelight when it came to bathroom decor. Even in today's world where everyone is learning so much about interior design, creating interesting home spaces, where everyone is doing the DIY thing and pushing the limits of creativity when it comes to home interior design. The lonely bath towel has still been forgotten and rarely mentioned at all.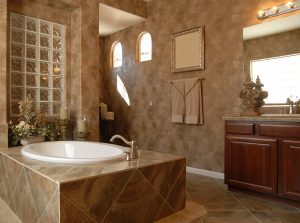 How can we take the bathroom towel and turn it into something that is expressive, that has a piece of your personality and that will make your bathroom look great? The thing about this is that it is all about you and who you are. It is about what you're trying to express with your bathroom design and decor. For many of us, when it comes to decorative bathroom towels and trying to make some sort of impact and trying to make some type of expression with them, we are going to have to go to different types of materials, textures and display designs because that's the only way to take the lowly bathroom towel and make it into something a lot bigger
When it comes to different materials that people are using for bathroom towels, especially decorative towels, they are going to exotic and rarely used materials. There are even people using burlap in different forms of canvas to create display towels for show. There are even people who are using denim in the bathroom of all things! Perhaps the idea is to take anything unique and make it fit into the role of the decorative bathroom towel.
One of the more important things that people are doing is finding great ways to display towels, be those that they use and even those that are just decoration. In modern bathroom interior design, we are seeing more fancy cubbyholes and different types of racks that are used to hold towels and those pieces of bathroom furniture will give the bathroom more character. So, it is a mix of the utilitarian aspects of choosing a towel, choosing the decorative towel, finding unique ways to store and display them.
When it comes to bathroom towel decoration ideas there is no limitation on what you can do. Your only limit will be your imagination and what you think is possible and appropriate. We are living in a day when it comes to home decor where almost anything goes. The coolness that comes with that is that people are really trying some unique things and they are pushing the boundaries of what we always accepted as proper home decor. They're doing all types of unique things and people are truly turning their house into a home, something that is unique, something that shares the same blood and pieces of their soul. Their personality is swimming throughout their home and that is probably what the goal should be for most people. Make your home aspirational, put elements in it that excite you, tell your story and who you are and who you want to be.