In most homes, your living room is the first room people see. Even though the living room is used mostly to entertain guests, you still want the room to have a comfortable environment for you and all family members.
As you look around your living room, you realize that many things need to be updated, but your budget won't allow a full remodeling job. So, you have been checking out some home decorating tips in magazines and on the Internet that will suit your budget.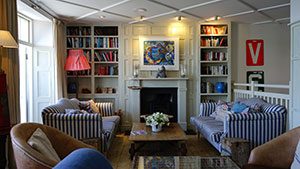 Below are a few ideas you can use to give your living room a whole new look for guests and family without spending a ton of money on remodeling.
Six Budget-Minded Ideas For a New Living Room
1. Add Slipcovers and Pillows
Change the color of your sofa and chairs by adding pre-made slipcovers. You can choose these in many different styles and colors that will match your living room decor.
Another home decorating idea is to use large colorful pillows or decorative throws on your sofa and chairs. This option, which may a little less expensive than slipcovers, will also give your living room a fresh new look.
2. Use Area Rugs Instead of Carpet
Do you have a very large living room with more than one seating area, but you prefer not to put down wall to wall carpeting? Your solution may be area rugs that will define each sitting area. The area rugs, which add color to your decor, look great on tile or hardwood floors.
If you happen to have carpet and small children, the area rugs come in handy for covering up stains.
3. Wall Decorating Ideas
Hang some modern artwork or mirrors on your walls facing the furniture for friends and family to admire. Cloth wall hangings are also very popular and can be hung above your couch or chairs. You will be amazed at how much this can change the aura of your living room.
Show off special moments you've shared with friends and family, by placing the photos in special frames and hanging them on your living room walls. Another home decorating idea that will add style to your house decor is clocks. A favorite is the grandfather clock, which can either be wall-mounted or freestanding.
4. Change the Living Room Lighting
A significant difference can be made by simply changing the lighting in your living room. Brighten up your living room home decor with more floor lamps by placing them in dark corners.
Displaying candles also provide perfect lighting and a warm atmosphere for special events or a romantic evening held in the living room.
5. Organize Furniture
Instead of replacing all of your living room furniture, why not just organize it around a focal point, such as a large window or entertainment center to maximize space and comfort.
If you have a really large living room, you can position your furniture in several separate sitting areas. Add a few more end tables and comfortable chairs.
6. More Home Decorating Ideas
Bring natural beauty to your living room by sitting a decorative vase with flowers or silk plants on a table next to the entrance.
Add uniqueness to your home decor with indoor water fountains and sculptures. These charming decorations are becoming more popular everyday for home design.
I hope you tried the above ideas and now you are enjoying your new living room that you decorated all by yourself. But, more importantly, you stayed within your operating budget.