Do you want to re-do your old and worn out walkway at your house? Updating a walkway to something a bit more modern and fresh can give your home an incredibly new look for a fraction of the cost of larger renovations. Whether in the front yard or back, this can be a very fun DIY project or you can simply hire the pros to do it. Depending on what you want (concrete, brick, wood, gravel, etc) choosing to DIY or not can be a big decision.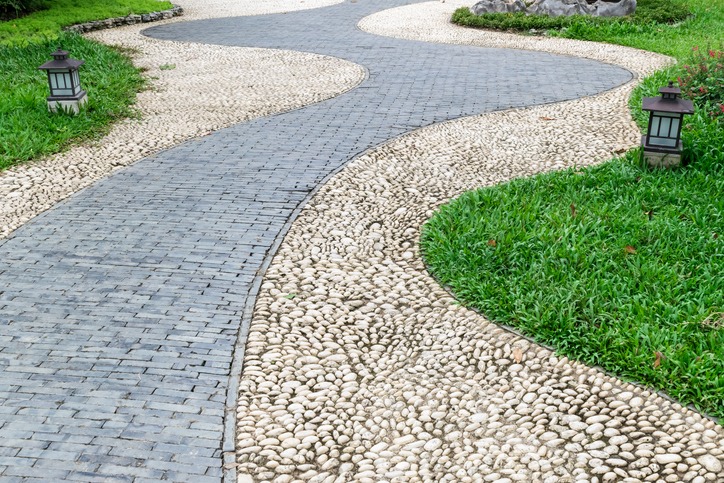 Decide On A Material
Deciding on a material is a good first step. Do you want it to have a more natural look? Perhaps wood might be the way to go. I'm a huge fan of reclaimed or rustic wood, especially if it's combined with a bit of stonework. The only downside to wood is that it has a slightly shorter timespan, depending on the wear and tear it gets as well as the climate that you live in.
I really like this wood and white gravel walkway ornamented with small circular shrubs. The only downside to this walkway would be the maintenance needed on the shrubs, however this is one of the freshest walkway ideas I have seen in quite some time. I like the fact that you won't necessarily feel like you have to balance on the wood pieces to walk through, even if you don't land squarely the gravel is flush with the level of the wood somewhat.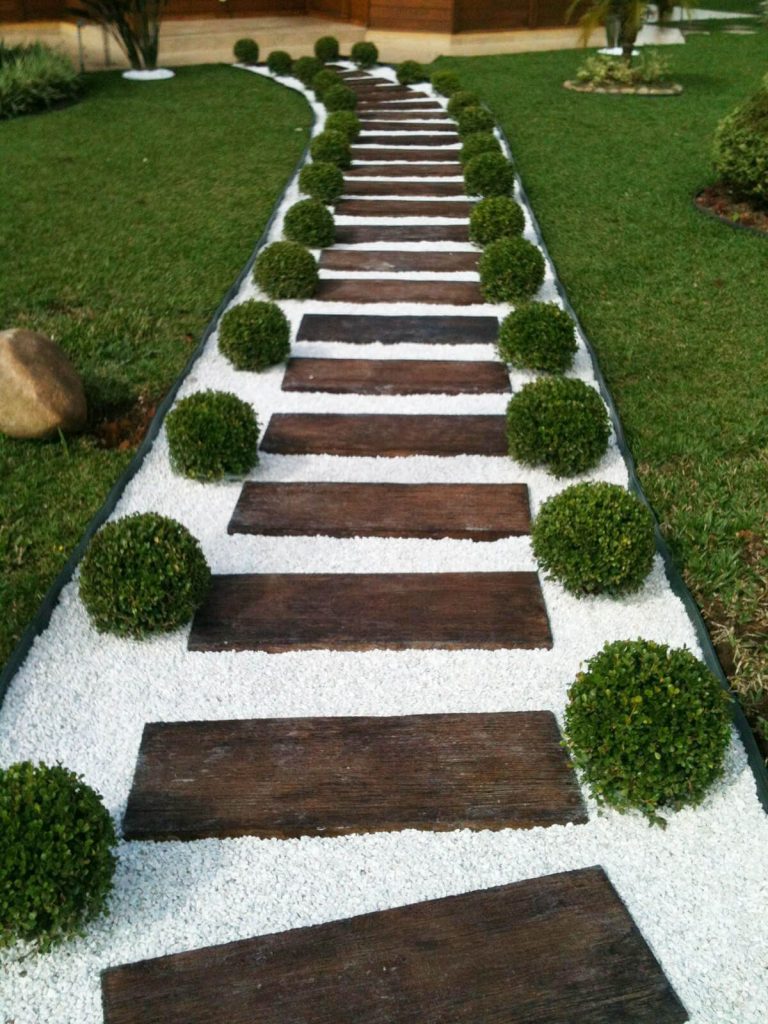 This creative walkway showcases slices of a tree stump – a great way to re-use and repurpose an old tree! I really like this creative idea and the wood goes well color-wise with the lush green of the grass and garden. If you properly finish these stump pieces they will last a long time! The only danger is that they will probably fade from the sun if you live in a very sunny area such as southern California. Another thing to watch for is bugs eating away at the wood…but if you finish it properly this shouldn't be a big deal.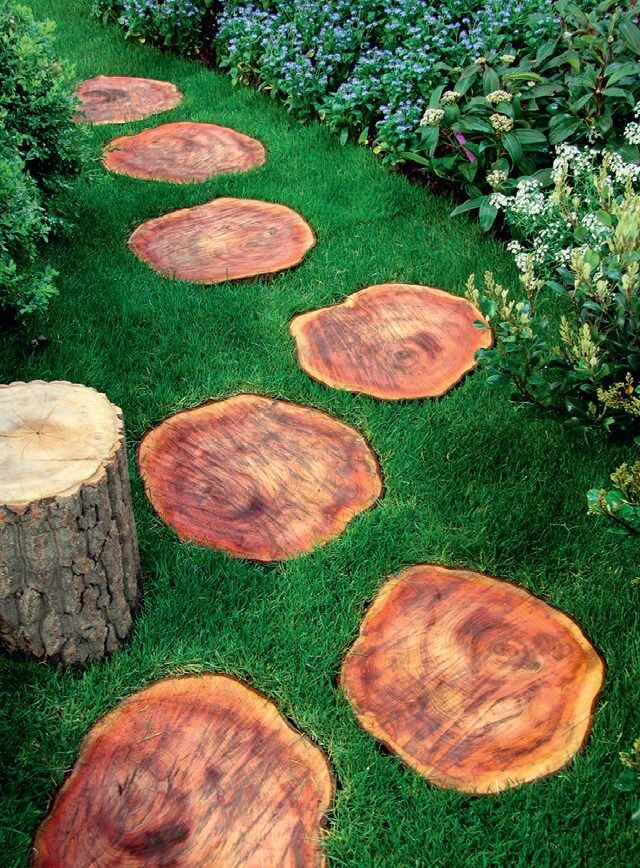 Pick A Color
Sometimes this can go hand-in-hand with the material that you choose, but not always. You can go into various shades for most materials that you can choose – from white to dark red for bricks, light and dark for wood, and an entire range of colors for gravel and stonework. Think about your landscaping and the coloring of your house, and choose something that's complimentary and that will offset other colors nicely.
This natural naked wood walkway gives a finished but rustic feel to this terraced garden. However, this wood could also be stained or painted an array of different colors to give the garden even more pop. I can see this stairway in a nice brick red or maroon looking very nice.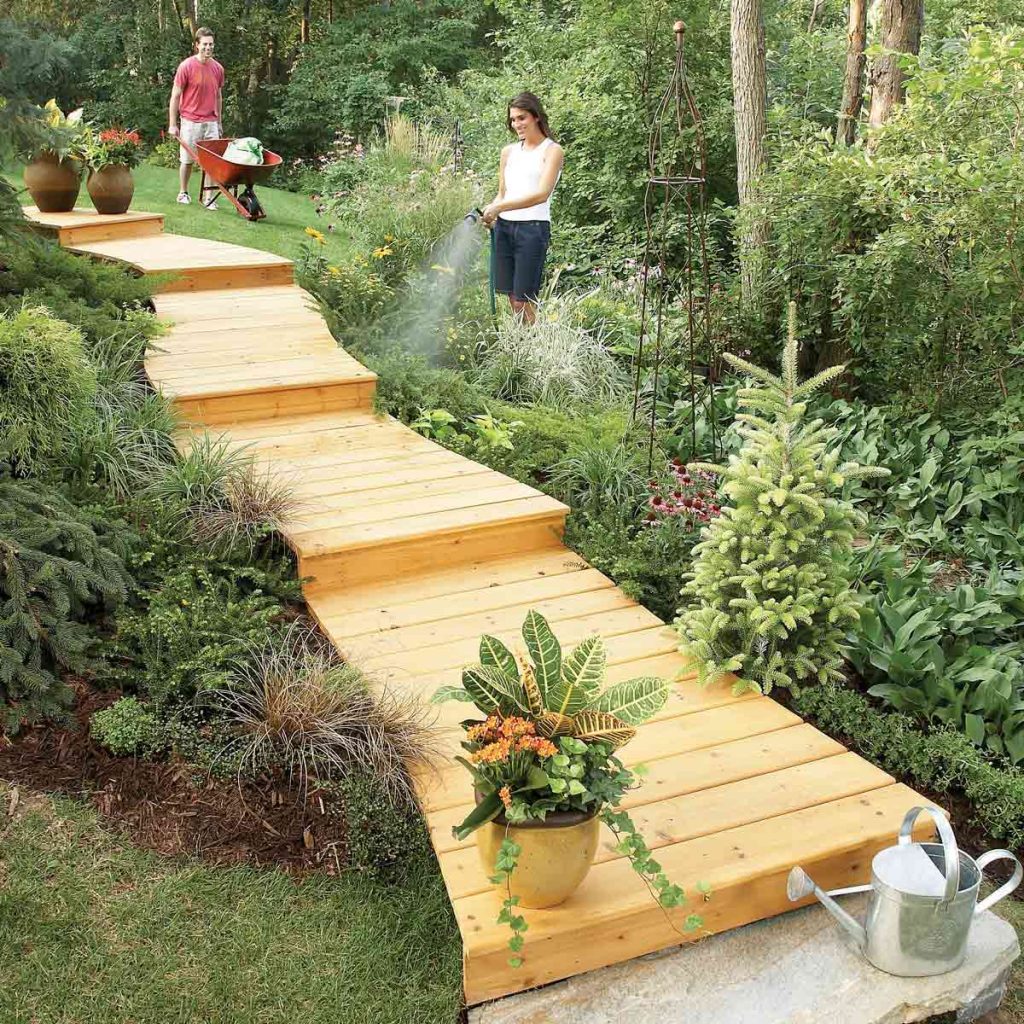 The slate colors of this walkway are varied and this gives it a distinctly naturalistic feel – you can tell they wanted the variations to offset the "man made" nature of the stones. The curvature of the walkway compliments the circular patios and grass. Which brings us to…
Choose A Shape
Do you want your pathway to go directly from point A to point B? Or would your rather it took a more meandering direction? This can be a big stylistic choice – adding some shape to a walkway can give it some character and charm. Straight paths can give a modern, geometric aesthetic, and curves can soften hard edges.
Generally speaking straight pathways will look more "modern" and curved pathways will give a more warm and rustic feel. It really depends on the surrounding landscaping, the feel that you want, and the style of your home.
Check out the hard lines on this walkway – definitely a different feel vs curved outlines. However, it is unique and it's a bit unusual to see pathways done like this. It really depends on how your house and landscaping is done, and how you want the walkway to look.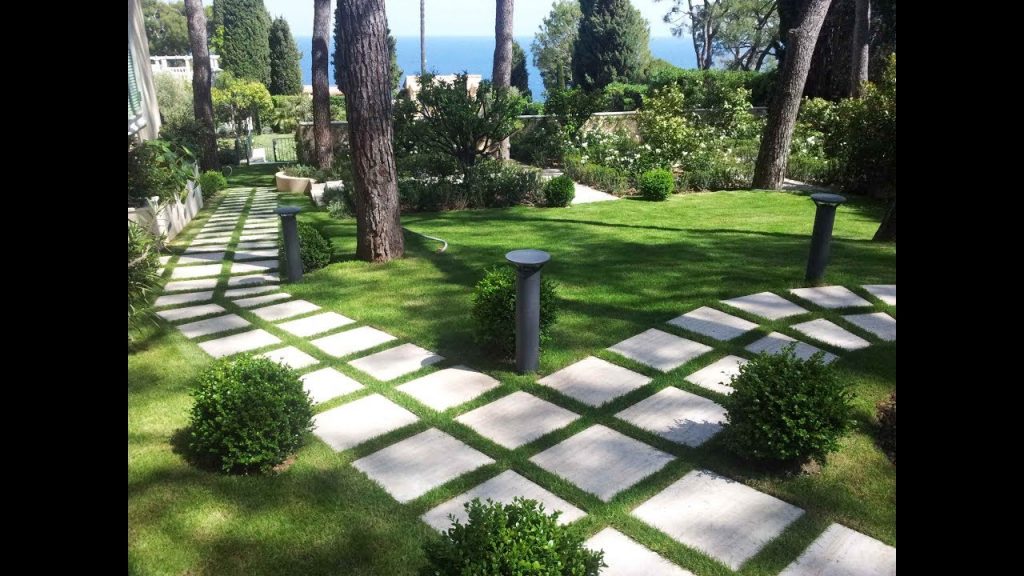 Whatever you decide to do with your walkway, remember that it can definitely be changed in the future. It's semi-permanent, but less permanent than say, adding a room. Walkways can definitely alter the look and mood of an outdoor space, so it's important to take the design seriously. If you decide to install a cheap concrete path without thinking about it, you might end up with a cheap feeling yard. However if you spend just a little bit more time and creativity you could have something timeless on your hands.