The average family spends a lot of time in the kitchen, eating, preparing meals, so it is important that the room be decorated so that it feels warm and inviting. When it comes to home decorating, the kitchen is probably the easiest room in the house to personalize and make your own. You have to find a way to incorporate your own sense of style into your home decorating, but one very popular decorating theme of late is retro, particularly vintage-style kitchens. Believe it or not, making this style work is not as hard as it may sound.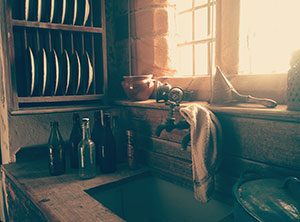 There are many things involved when it comes to decorating your home, and to get the full effect, you can't leave any aspects out. You have to work with the walls, the flooring, your window treatments, furniture, and the all important, accessories. When doing your vintage kitchen home decorating project, you may find it easier to start with the walls, and then work your way down the list. Depending on your budget, and the amount of time and effort you are willing to put into this home decorating project, you can simply paint the walls a vintage color, such as green with cream accents, red with white accents, or pink with blue accents, or any combination of these popular vintage colors, or you may do a combination of painting and decorative vintage tiling, if time permits. You should choose your colors based off the popular colors from the era that you are recreating.
Your window treatments can make or break all of your home decorating efforts, if they are not carefully thought out. Curtains aren't really that expensive, and if you shop around, you can even find vintage curtains from many past eras, or as always, you can opt to make your own from your favorite fabric and patterns. Many people, depending on the era that they are using for inspiration, actually find vintage tablecloths, and turn them into window treatments, let your creative flair really show here. You may even want to checkout your local thrift stores, or yard sales, to see what type of vintage items you can find that match your home decorating vision for your vintage kitchen.
Unless you are willing to spend major money, your best bet with your flooring would probably be to purchase some nice vintage rugs, and use those, rather than replacing your existing tile. Again, look for these at thrift stores and yard sales first, especially if you are on a tight home decorating budget.
It also can be quite expensive if you start trying to purchase kitchen furniture to go with your retro theme, you may want to try doing something with the furniture you already have instead. You may be able to paint it a vintage color, or use your sewing skills to make some chair covers, a tablecloth, and matching seat cushions, all using vintage fabric of course. This would be much cheaper then purchasing more furniture, unless you found something that would fit perfectly for a great price at a yard sale or consignment shop.
Accessorizing is the easiest home decorating project to do, and usually the most fun part of any room that you do. When shopping for your newly designed vintage kitchen, look for retro or vintage appliances, blenders, coffee makers, tableware, dishes, glasses, silverware, canisters, anything that strikes your fancy and fits in with your vintage theme. Display these items throughout the room, so that they really add that extra special something that makes the room really POP when you look at it for the first time. If you can impress yourself with your home decorating savvy, then chances are, your guests will also be impressed as well.
Home decorating projects aren't all that difficult, with a little careful planning, some patient shopping, and a little elbow grease, you can have a home that you want to show off to all of your friends. Soon, they will be calling you for home decorating advice, imagine that!