Shower curtains have the ability to transform almost any bathroom into a conversation piece. They also have the power to show whose bathroom that you currently happen to be standing in, since most department stores now have a children's bathroom section with a wide array of decorative shower curtains and matching accessories. Shower curtains are also no longer used simply to hide the tub. They can be as elegant as any other furnishing in your home.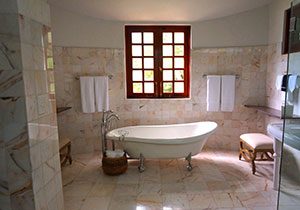 When you go about your bathroom home decorating project it is amazing what you can do for the look of your bathroom just by repainting the walls and adding a nice shower curtain. Even the single panel shower curtains have been made over to look as though they are the more expensive type of shower curtains. These newly upgraded single panel shower curtains have a built-in swag at the top to give the illusion that the shower curtain is actually two pieces rather than just one piece.
One of the first things most people do when they move into a new home is to set about on a home decorating project to make the house suit their own personality. This is especially true when the former owner has drastically different tastes from the new owner. At this point it's out with the old and in with the new. Of course home decorating gets expensive when it includes the entire house. If there is any room in the home which can save you money when home decorating, it is the bathroom. This is due in part because of the size of the bathroom is not as large as the majority of the rooms in the home. Another reason is there are not as many things to change in the bathroom and is there are in other rooms of the home.
Adding beauty and saving money has never been easier than changing a shower curtain. When decorating your bathroom in his essential that you get a shower curtain which complements the colors in your bathroom. Your home decorating plan should include shopping for other bathroom accessories which will further enhance the beauty of your bathroom. These items could include, but is not limited to, matching hand towels, wastebasket, soap dish and other bathroom accessories.
If you have been to move into a home which has older tiles and you'd rather not let your guests see the brown or green tiles when they come to the bathroom, then it may be time to splurge and have the tile replaced. One way that you can reconcile the costs of replacing the bathroom tile is the fact that if you decide to sell your home, the new tile will increase its value.
If you happen to be looking for a less expensive way to spruce up an otherwise drab bathroom, you can replace the bathroom fixtures and add a decorative mirror. Make sure when you change your bathroom fixtures that you also change the knobs on all of the cabinets and drawers. A favorite home decorating trick to spruce up any bathroom is to make use of an area rug. Rugs are a great way to add interest to a room, and they don't have to cost an arm and a leg.
Bathrooms that have windows of course can always be given a fresh look by giving it a new window treatment. Curtains which match the theme and color scheme of your bathroom is a quick and easy way to perk up your bathroom.
One final suggestion on your home decorating ideas for your bathroom is to introduce live green plants into your bathroom. They add a certain natural feel and the moisture from your showers will help keep them beautifully green and lush, which in turn helps make your bathroom more attractive.