When you're trying to decorate your home, you may not have bundles of money laying around to play with. Most people will have a decorating budget that can quickly disappear without you realizing it. Luckily, there are a few ways you can decorate your home without breaking the bank. There are many affordable home decor options to check out to make your home look great for a low cost.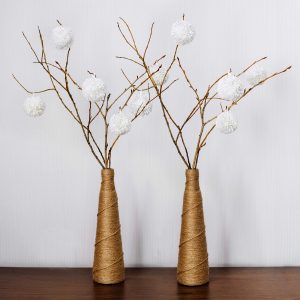 When you're trying to decorate your home, the first affordable way to get some decor for your home is to check out used pieces. You can find great used pieces in thrift stores, yard sales, and online classified websites. These places will often have well taken care of decor pieces for a fraction of the original cost. The benefit of used pieces is that you won't have to spend a lot of money, you'll be able to find unique pieces that will go well with your style, and you'll get to spend a lot of time hunting and shopping for the perfect pieces. The downfall of purchasing items used is that there may be some wear on the items and you may not find matching pieces if you're looking for that. For example, if you want two matching lamps, you may struggle to find a used set.
Another great thing about used items is that they can often be refinished to fit your style. If you find a painting that you want to use in your home, you can change the frame to match the other details of the room. If you find a wooden dresser you like the style of, you can refinish the surface to give it the color that you want. You can also add new hardware to pieces to change the style quickly and cheaply. If you're purchasing lamps, you can replace the lamp shades. There are many things that can be done to change an item to make it exactly what you're looking for.
If you're a handy person or have some help, a lot of decor items can be created for a very low cost. If you're looking for rustic pieces, you can build tables or chairs out of lumber and then stain them to go with your theme. If you're looking for a faux flower arrangement, you can go to a craft store and pick out individual flowers to come up with the exact arrangement you want. Picture frames can be created out of wood and distressed to create an older look. Instead of purchasing expensive curtains, you can create your own if you're able to sew. A lot of times, the cost of raw materials to create an object will be lower than the cost of manufactured items that don't need any work.
Decorating your home can be a low-cost adventure if you know what you're looking for. If you can take the time to build, create, or search for used items, you can save yourself a lot of money. You can also achieve the exact look and feel that you're going for in your home.