Having rustic decor is a very popular style for homes nowadays. If you're living in the city, you can make your home have a country feel with a few simple items that you can create yourself. While there are stores that sell rustic styled items, they can be quite pricey. Creating rustic items for yourself can save you a lot of money and let you create exactly what you want.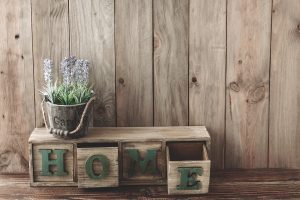 If you're looking for a rustic piece to add to your bedroom, consider creating a rustic style headboard. You can create the headboard to look like a barn door or an older pallet. There are many different instruction options for a rustic headboard online. You could create a headboard that resembles a barn door. You could also create a headboard that looks like a wooden pallet. The options are endless and the headboards typically won't take too many materials. In most cases, you'll need some boards that can be new or used, nails, wood glue, sandpaper, paint or stain, and paint brushes.
If you want to give your cabinets a rustic feel without doing too much work, you can easily create rustic style handles for a very low cost. To create rustic handles, you'll need to purchase some handles that have a rustic feel. Don't worry about the color as they can easily be painted if they don't look the way that you'd like them to.
You'll also need some twine and a hot glue gun. To create the handles, you'll first want to paint them if you're planning on changing the color. After the handles have been painted and given time to dry, you'll want to get out the hot glue gun and twine. With the end piece on the backside, you'll want to start wrapping the center of the handle with twine. You can place a bead of hot glue under each wrap on the back of the handle. Once you've covered the handle in twine, cut the twine so that the end falls on the back and glue into place.
A great way to give your home a rustic feel is by creating old looking picture frames for your pictures. To do this, you'll want to purchase some burlap and plain wooden frames from a craft store. The frame can be distressed with sandpaper and stained. They also make waxes that can make a piece of wood appear old and distressed. On the inside of your frame, you'll want to cut a piece of burlap that will fit the visible portion of the frame. Then you can glue a clip to the burlap to hold your picture in place for display.
If your style of your home is rustic, there are a lot of different ways you can create pieces without spending a ton of money. The internet provides many great how-tos that can be used to create exactly what you want. With a little bit of time, your home will have the rustic feel that you've always wanted.